Head East with Forthcoming Bob Dylan Box Set That Reframes the Rock Bard's Live Seventies Release
A new box set adds more to the story of Bob Dylan's late '70s live release | Cover art courtesy of the artist (cropped)
In 1978, Bob Dylan was in an untenable position. Rock fans still looked to the de facto troubadour to guide youth culture toward the next step to the '60s promised land. After all, Elvis Presley had recently died in August 1977. And John Lennon was content to stay at home, apparently baking bread. Disco was still spinning the vapid hits while punk rock was a mere gadfly buzzing in the music community's ear. So by sheer default, Dylan was the last savior standing.
Dylan was flush from the creative wins of his previous three albums. In succession, Blood on the Tracks (1975), Desire (1976) and the then-fresh Street Legal (June, 1978) were ultimately critical and surely commercial hits. It seemed as if he could do no wrong.
And then along came Bob Dylan at Budokan.
Derided upon its release for everything from its murky mix to hit-or-miss performances, in hindsight (as ever) the double-LP (released in August, 1978) was wrongly maligned. Dylan was working with a band including consistent cohorts like bass guitarist Rob Stoner and saxophonist Steve Douglas, two musicians who weathered the creative storms with Dylan in that decade both onstage and in the studio. The performances from Budokan weren't all stellar, but over the course of the 22 tracks, listeners could hear the hits and lesser-heralded album tracks culled from the past 15 years of Dylan's catalog.
The sheer glut of commercially released live albums that flooded the '70s chain record stores were in a weird competition with the other market of live releases: bootlegged live vinyl usually sold in independent record stores and head shops. So, like many of his prominent peers, Dylan was in competition with both the legitimate and illegal markets of recorded live music.
In celebration of the 45th anniversary of Bob Dylan at Budokan, on November 17, Columbia and Sony's Legacy Recordings are releasing The Complete Budokan. The set includes two complete shows (February 28 and March 1, 1978) recorded at Tokyo's Nippon Budokan Hall. In total, the 4CD or 8LP boxed set collection includes 58 tracks, 36 of which are unreleased. The 4CD set includes a 60-page booklet filled with various memorabilia and a 2LP set (Another Budokan) will contain 16 highlight tracks from the entire collection.
In this age of the unrelenting box set and "discovery" of unreleased tracks (paging the Grateful Dead), it can surely appear as if labels are attempting to make every remaining scrap of shelved-and-vaulted magnetic tape appear sacrosanct. And this simply is not true. Some things really are left better unsaid. This includes music (and yes, music reviews).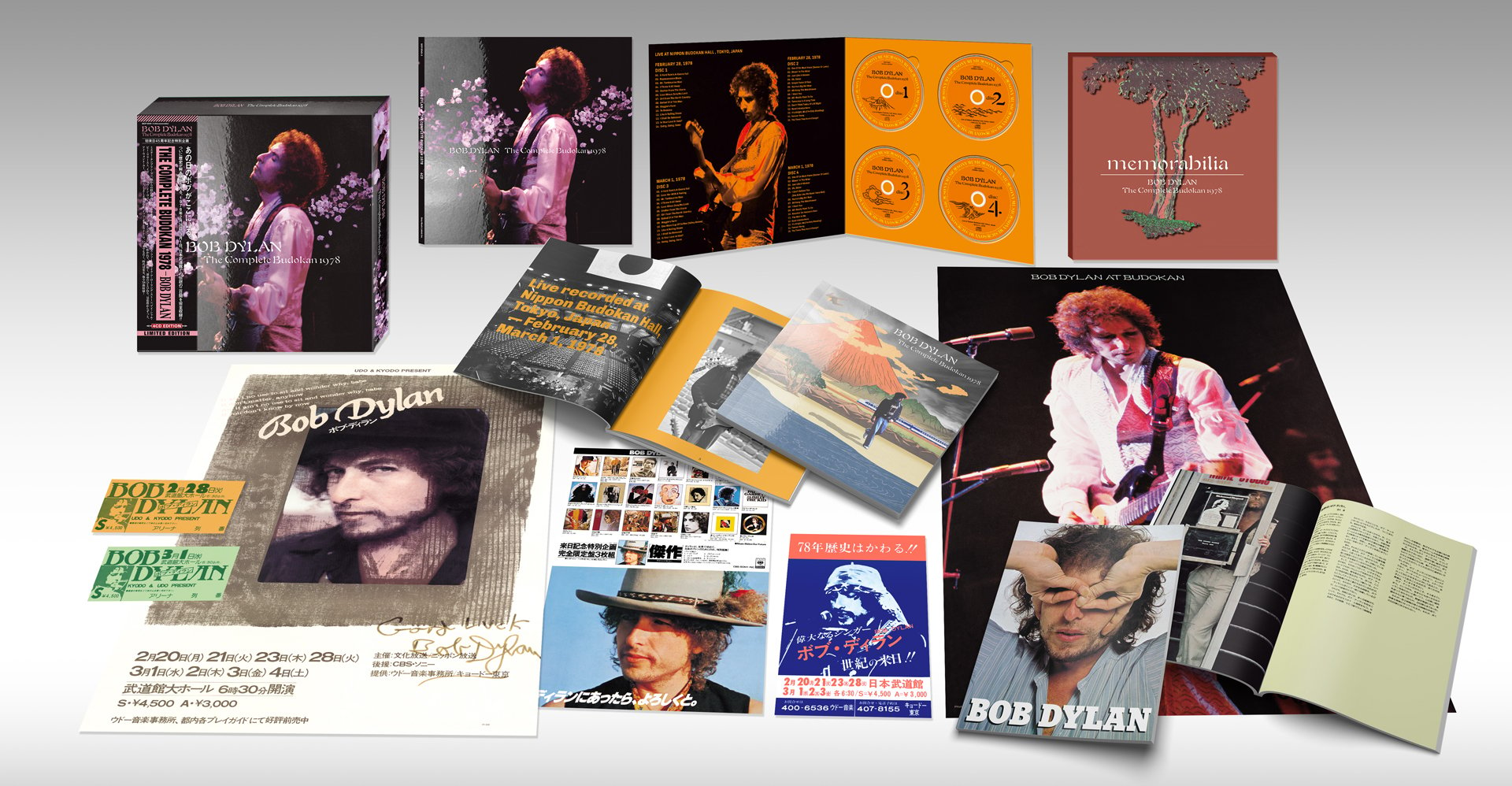 The Complete Budokan will arguably appeal to Dylan fan and neophyte alike. In the greater arc of music, The Complete Budokan qualifies as a non-event. At this point, the 82-year-old Dylan could eat a baby on stage and he would arguably gain even more fans. Now that would be an event. Dylan's legacy isn't in question, even when the motivations of the curators of his legacy surely are.
Within a year of Bob Dylan at Budokan being released, Dylan would make his own reach for the sacred, converting to Christianity and his next three albums would offer up even more unexpected, and at-times surprisingly fantastic, evangelical rock music. Anyone praying for an imminent "second coming" of live or unreleased tracks from Dylan's 1979-1981 religious era—presented in savvy, pricey packaging— are banking on both faith and the blunt certainty of good old manna-funded materialism.
---