Double Space is the Place | New Compilation Celebrates the Intergalactic Verse of Sun Ra
The forthcoming album 'My Words Are Music: A Celebration of Sun Ra's Poetry' (Omni Sound) highlights the poetic works of this enigmatic polymath | Cem Akkan (cropped)
When tracking the enigmatic creative life of Sun Ra, it truly depends on which orbit you traverse. Over the course of his 79 years on this planet, Sun Ra worked with blues artist Wynonie Harris and big band Fletcher Henderson, later to and rub shoulders with esoteric-roots rockers NRBQ and guitar-throttlers Sonic Youth.
Sun Ra released more than 100 albums of music (many of which were self-released in limited pressings on his Saturn Records label), much of which were recorded with his big band: The Arkestra. While his orchestra would experience a shifting membership over the years, the core players would remain devoted to Sun Ra for decades, at times living together communally. Sun Ra (who reportedly rarely slept) is credited with composing more than 1,000 instrumental or vocal works, making him one of the most prolific composers of the 20th century.
While his life and work have become increasingly studied and scrutinized, a cursory backstory might convey his mystical place in music history.
He was born Herman Poole "Sonny" Blunt in 1914 in Birmingham, Alabama and was a child prodigy pianist, adept at playing Bach as well as Duke Ellington. Well before UFO mania invaded the world, Blunt claimed to have undergone a bizarre transformative encounter and initiation. While some Sun Ra scholars dispute the date, Sun Ra claims that as a young man in the mid-1930s he underwent an intergalactic-religious vision, culminating in teleportation to the planet Saturn. Benevolent alien overseers explained that he would be a messenger to humanity, warning us of our imminent self-created doom, with Sun Ra being a de facto psychospiritual antidote to that eschatological certainty. Oddly enough, it wasn't until the 1940s that America began experiencing UFO hysteria and fascination. In honor of the Egyptian sun god, in 1952 Blount changed his name to Le Sony'r Ra—or Sun Ra.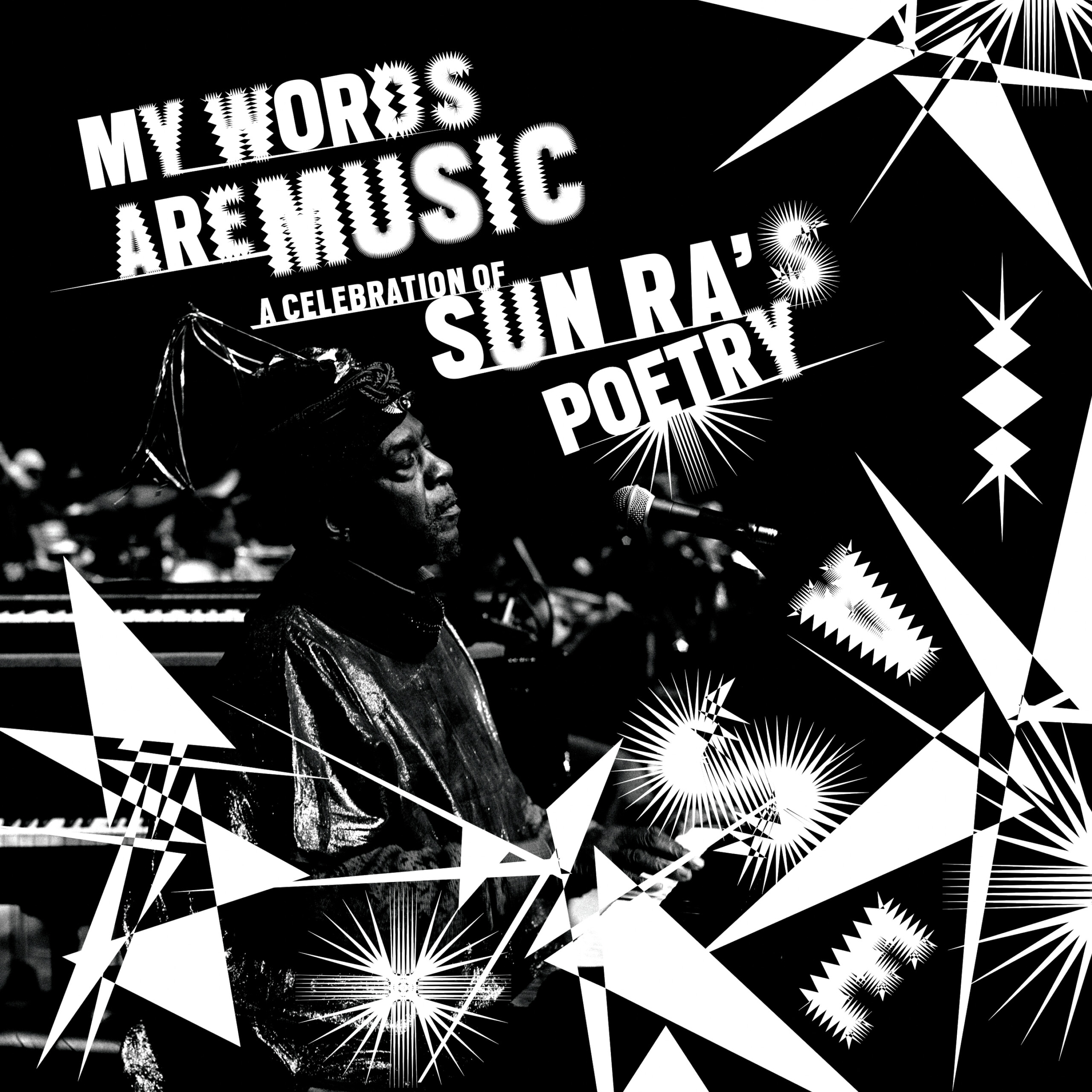 In addition to self-released albums, as early as the 1950s Sun Ra began handing out mimeographed tracts and monographs featuring content based on his "Astro-Black" beliefs: a cohesive and convincing mixture of Egyptology, Gnosticism, Black nationalism, Kabbalah, Freemasonry, numerology and UFO-ism mythos. He also was a poet and self-published chapbooks of his original lyrical verse. In the past 20 years, Sun Ra's poetic works have been anthologized in the collections that are hit-or-miss in even finding: Sun Ra, The Immeasurable Equation; Sun Ra: Collected Works Vol. 1: Immeasurable Equation; The Wisdom of Sun Ra: Sun Ra's Polemical Broadsheets and Streetcorner Leaflets and This Planet Is Doomed.
A new album My Words Are Music: A Celebration of Sun Ra's Poetry (Omni Sound) highlights the poetic works of this enigmatic polymath. More than a few of Ra's compositions employed chant-like vocals that could play as mesmerizing and fittingly otherworldly. But My Words Are Music is the first release featuring his poems presented in direct form, set within a 21st-century setting.
The chosen spoken word artists personally selected their favorite Sun Ra poems and the 22-track album includes readings from L'Rain, Saul Williams, Tunde Adebimpe (TV on the Radio), Abiodun Oyewole (The Last Poets), Mahogany L. Browne and Zakia Sewell. The album also features the Arkestra's Knoel Scott and Marshall Allen. Now at age 99, multi-instrumentalist Allen is the last acolyte of Sun Ra and performed with the Arkestra from 1958 to Sun Ra's death in 1993. Allen has kept the Arkestra active in the past three decades and provides musical accompaniment for My Words Are Music.
"When Angels Speak" features a recitation by Saul Williams. As a writer, rapper and actor, Williams boasts a mercurial creative path akin to Sun Ra albeit without UFOs and Madame Blavatsky name-drops. In a measured intonation, Williams delivers the short-form poem. The opening stanza sets the stage: "When angels speak / They speak of cosmic waves of sound / Wavelength infinity / Always touching planets / In opposition outward bound." At the close of the reading, a theremin ascends from the mix. It is a fitting microcosm of the vast macrocosm of Sun Ra, a singular artist who left behind a body of work that we foolish mortals are still attempting to decipher for Sun Ra's ultimate promise: immortality.
My Words Are Music: A Celebration of Sun Ra's Poetry is released on August 25 (digital) and October 17 (physical) from Omni Sound.
---