Asamov, the Influential Jax Hip-Hop Group, Finally Gets its Due
Asamov nearly broke big in the early 2000s. Long celebrated by those in the know, the group's music, and influence on Jacksonville's hip-hop scene, is being reappraised for a wider audience. From left: Willie Evans Jr. (Niam Jones), DJ Basic (Vladimir DeCastro), Therapy (Paten Locke), J-One-Da (Joe Cox) | Credit: Courtesy of Willie Evans Jr.
Recent years have seen more mainstream attention being given to local rap artists than ever before. But the stars of today are newer, younger artists, most of whom have never known anything but the digital future we're currently living in. There was, however, a whole generation of local legends who never got the hype they deserved.
And Asamov sits atop any such list. Were they the greatest Hip Hop group our city ever produced? That is a subject for vigorous debate. But what cannot be debated is their primal influence on all that has come since. With Asamov now long gone, the time has come for reassessment, reappraisal, reconsideration.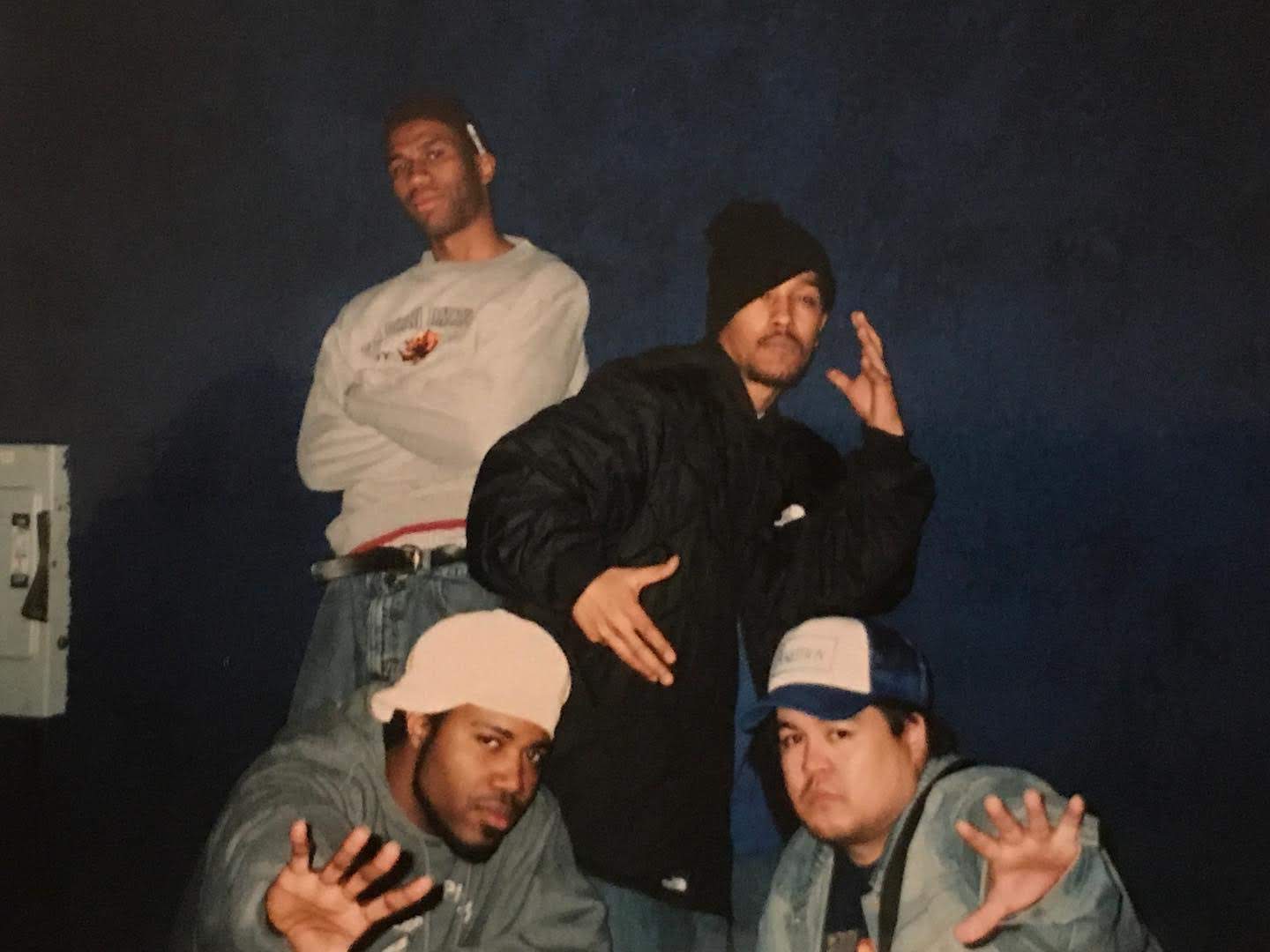 This year marks the Golden Anniversary of Hip Hop, and so it makes perfect sense that this year's JWJ Hip Hop Festival, which takes place on Saturday, February 18, is being developed specifically to pay tribute to a man who is, without question, the single most important figure in the history of Jacksonville's hip-hop scene: the late great Paten Locke (1974-2019).
Locke's own family will address the audience at 2:45pm, and there will be a DJ tribute to him at 4pm. The lineup consists of artists and acts who were directly influenced by Locke, most of whom worked with him in his lifetime: Mal Jones, Simple Complexity, Higher Learning, In the Midst, Little Plates and Dillon, who co-founded Full Plate Records with Locke. In addition, Jay Myztroh will return as Stono Echo, the project he led with Locke.
This year's festival has actually expanded into a two-day affair, as there will now be a VIP party preceding the festival on Friday night, the 17th. This event will occur at The Jessie Ball duPont Center, and features two screenings of short documentaries that center on the culture: Outside by Ché (of L.O.V.E. Culture), and Recollection: How Asamov Began.
The latter was a labor of love for Willie Evans Jr., a local legend in his own right. This project brings him around full circle, since it was Paten Locke who directly influenced his initial experiments as an artist, as a father, and as a man.
"P was a staple DJ early on in the scene," he says. "Between that and being extremely high level with rhymes, he played a crucial role in setting a standard for peers and others hoping to be peers in an emerging scene. It was done the B-boy way, which I'll nicely describe as 'aggressive quality control', but ultimately it lead to us having a lot of great talent sharpen their tools even more locally. In terms of tangible results, most places that have a space for hip hop in Jacksonville today have at least one person involved that was heavily influenced by him."
"In terms of tangible results, most places that have a space for hip hop in Jacksonville today have at least one person involved that was heavily influenced by him."

Willie Evans Jr. on the prevailing influence of his Asamov partner Paten Locke
Paten and Willie both achieved wider prominence together, as two-fourths of the iconic rap group Asamov, which also included DJ Basic (Vladimir "Buddy" DeCastro) and J-One-Da (Joe Cox). Their first/last/only album, And Now…, was an essential document of that era. It was the crown jewel of 6Hole Records, founded by Desi Relaford, a former Major League Baseball player who graduated from Sandalwood High and played for the Jacksonville Suns (now known as the Jumbo Shrimp).
The album could have, should have, would have carried them to global prominence, but it was not to be. Asamov was there to bring balance to the force, but they were thwarted by the dark side of capitalism when the estate of sci-fi writer Isaac Asimov (1920-1992) brought legal action against Asamov, because they made the mistake of naming their group after a writer that they admired. Even though the name was spelled differently, and even though Asimov himself was already 15-years gone by that point, global distribution of the album was stifled, while the actual group was rebranded as The AB's. Timing is everything in an industry as fickle as hip hop, and once they missed their window, it closed on them, and it never opened again.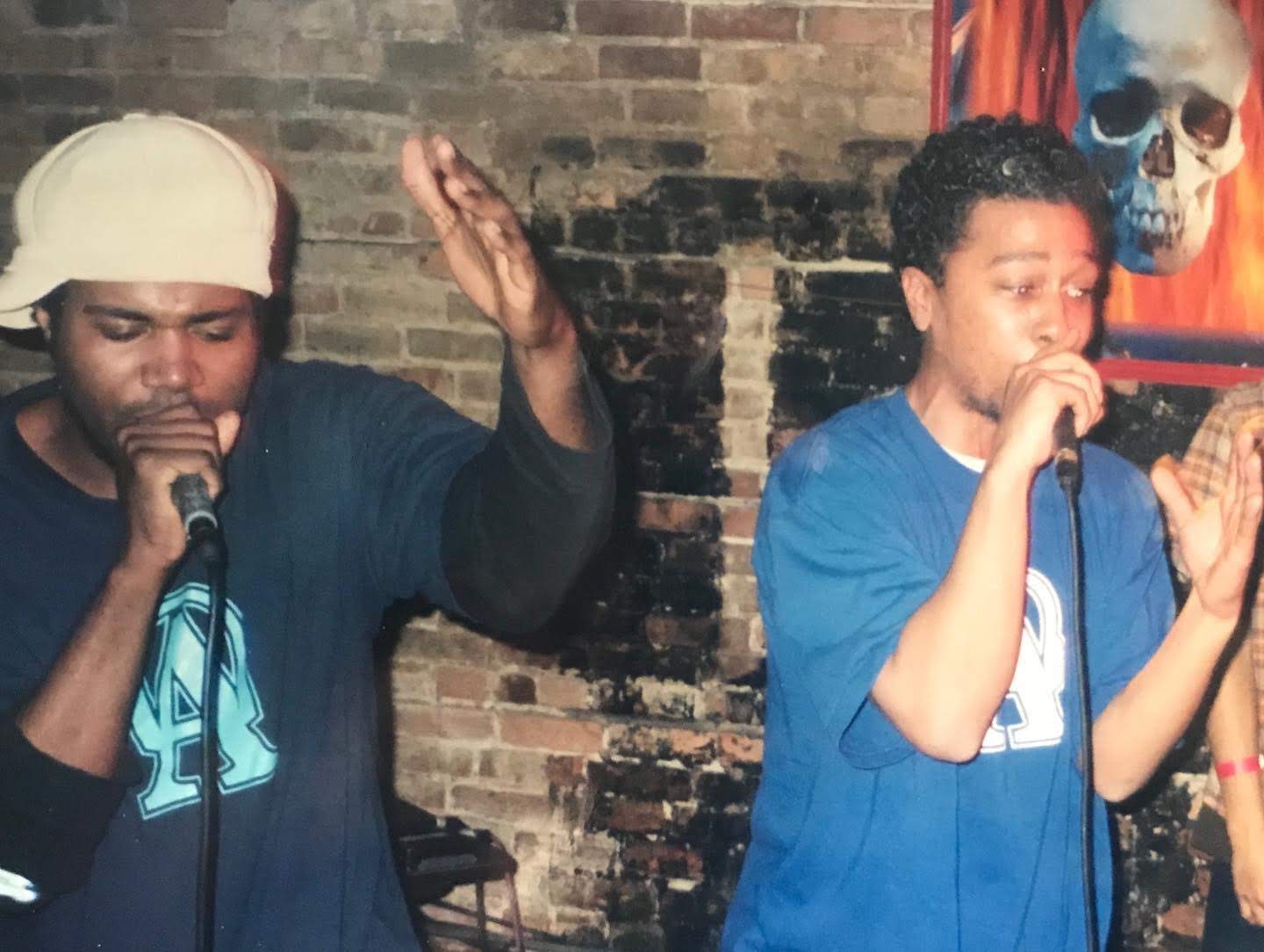 Had it not been for the Asimov estate's actions, all four members of the group would most likely be millionaires today. That group, and that album, was a rare and special thing, and in that moment, their potential was limitless.
"The cease and desist from the estate ended up being more of a brick wall than a speed bump," says Evans. "I think that was largely because of our lack of knowledge at the time which I'm guessing that they were counting on." The action adversely affected the members themselves and their families. And it arguably altered the trajectory of southern rap, and especially the local scene.
The videos that Evans and Locke did together as Dumbtron, "Stay Classy" and the infamous "Moose Python" (arguably the greatest rap song ever made in Jacksonville, just my personal opinion), were technological touch points for the directions Evans has moved in since. Evans and Locke were both keen to experiment with the videos for their own songs, but together they eventually made the video work not just in service to the music, but in conjunction with the music.
Evans' mature style, as seen in his most recent multimedia production at Babs' Lab, The Brown Wonder, sees him cutting and blending bits of video together, very much like the ways that producers craft their beats. The resulting synthesis stimulates the senses, making the music even more compelling than it already was.
Recollection: How Asamov Began is a more straight-ahead production, at least as much so as he'll allow. The 35-minute project was partially crowd funded, not for money, but for video testimonials about Asamov and their role in the culture, here and beyond. It features commentary from assorted Duval icons like Dr. Melissa Hargrove, Patrick Evan, Mal Jones, KesRock, Mr. Lif, Madeleine Peck-Wagner, DJ Mat Smith, the late F. Kyle Marshall aka ChefRocc, Ian Ranne, Ricky Boyce, Moe Ricks, Al Letson, Shaun Thurston, Jason Hunnicutt, Kool Lade, DARYL, and of course the members of the group.
Much of this video was collected in real time, over the course of years. Evans edits the clips to create a sort of oral history of the group, from start to finish. Since the clips span a decade or more, it gives the narrative a chaotic, yet weirdly timeless energy. Which is a pretty succinct way of describing the subjects themselves. If you're not about to view the documentary in person, you can also rent or purchase the whole thing directly, via Asamov.net.
Evans describes his fallen comrade Locke with poignance and precision: "A hip-hop genius that was exactly as dope as he would freely let you know he was and more loved locally than he thought he was." The festival is part of the ongoing effort to show that love, and hopefully he's watching it from his current position, somewhere in the cosmos.
The James Weldon Johnson Park Hip-Hop Festival is held Saturday, February 18, 2023 from noon-5p.m. at James Weldon Johnson Park. The VIP Event, Docs and Beats is held at the Jessie Ball duPont nonprofit Center on Friday, February 17, 2023. Both are free to attend. RSVP is required for the VIP event. More information. UPDATE: The VIP Event is currently sold out.
---