Winterland V Announces Full 2023 Lineup
Courtesy of Winterland
Jacksonville-based, independently run nonprofit music festival Winterland has announced its full festival lineup, adding an eclectic list of 21 local, regional and national artists to the two-day music event headlined by alt-grunge-psych-pop rock group The Dandy Warhols, legendary Brazilian rock outfit Os Mutantes, multi-instrumentalist and R&B/Soul singer and producer Sudan Archives, indie singer-songwriter Sasami, North Carolina psych sextet The Nude Party, Miami garage rockers Jacuzzi Boys and arty NYC punks Gustaf.
The full festival lineup includes nearly a dozen Jacksonville acts, including kraut-pop band Kairos Creature Club, singer-songwriter rickoLus, vocalist Jay Myztroh and indie-folk singer-songwriter Howdy among others. Sunshine State artists are well represented with Miami's Ben Katzman and St. Petersburg bands The Venus and Chlorinefields. The lineup also features established touring artists from across the country, including Atlanta's CHEW and Gringo Star, Southern California's Rudy De Anda and New York's Gnarcissists.
The Dandy Warhols | Os Mutantes | Sudan Archives | Sasami | Jacuzzi Boys | The Nude Party | Gustaf | Kairos Creature Club | Ben Katzman | rickoLus | The Dewars | Dust Fuss | Chew | The Venus | Gringo Star | Rudy De Anda | Howdy | Jay Myztroh & Friends | Kenzie's Place | Ducats | Gnarcissists | Seagate | The Palmettes | Luci Lind | Chlorinefields | Jessica Pounds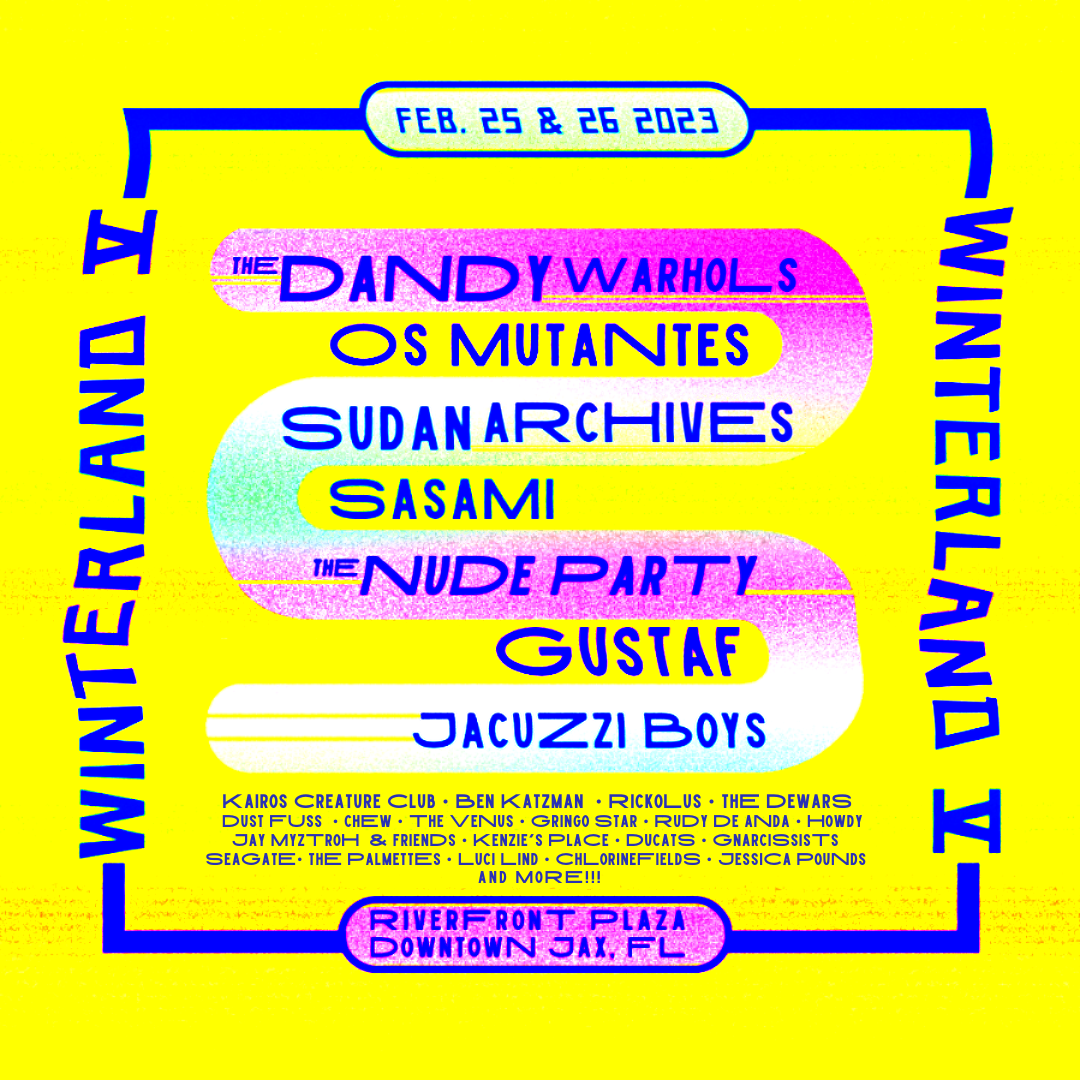 The festival was founded in 2018 and featured a dozen local and nationally touring bands performing over two nights in the temporary art venue Space Gallery in Jacksonville's Downtown. In 2019 Winterland II expanded to several venues and businesses in the Five Points district of Riverside, and featured performances by more than a three-dozen artists. After a COVID-initiated hiatus in 2021, Winterland IV was held in Riverfront Plaza in 2022, drawing more than 2,000 music fans to Downtown Jacksonville.
Winterland V brings two days of music to Riverfront Plaza in Jacksonville, FL on February 25 and 26, 2023 on the banks of the mighty St. Johns River in the heart of the city's Urban Core.
Winterland has once again partnered with WJCT Public Media and the Jacksonville Music Experience, who will provide media support, including an interactive festival guide with information about artists, stages, set times, art installations, the vendor market, food trucks and after parties.
The festival will once again be free to attend.
---