JME Recommends | Contemporary Jazz Artists You Should Know
The shape of jazz right now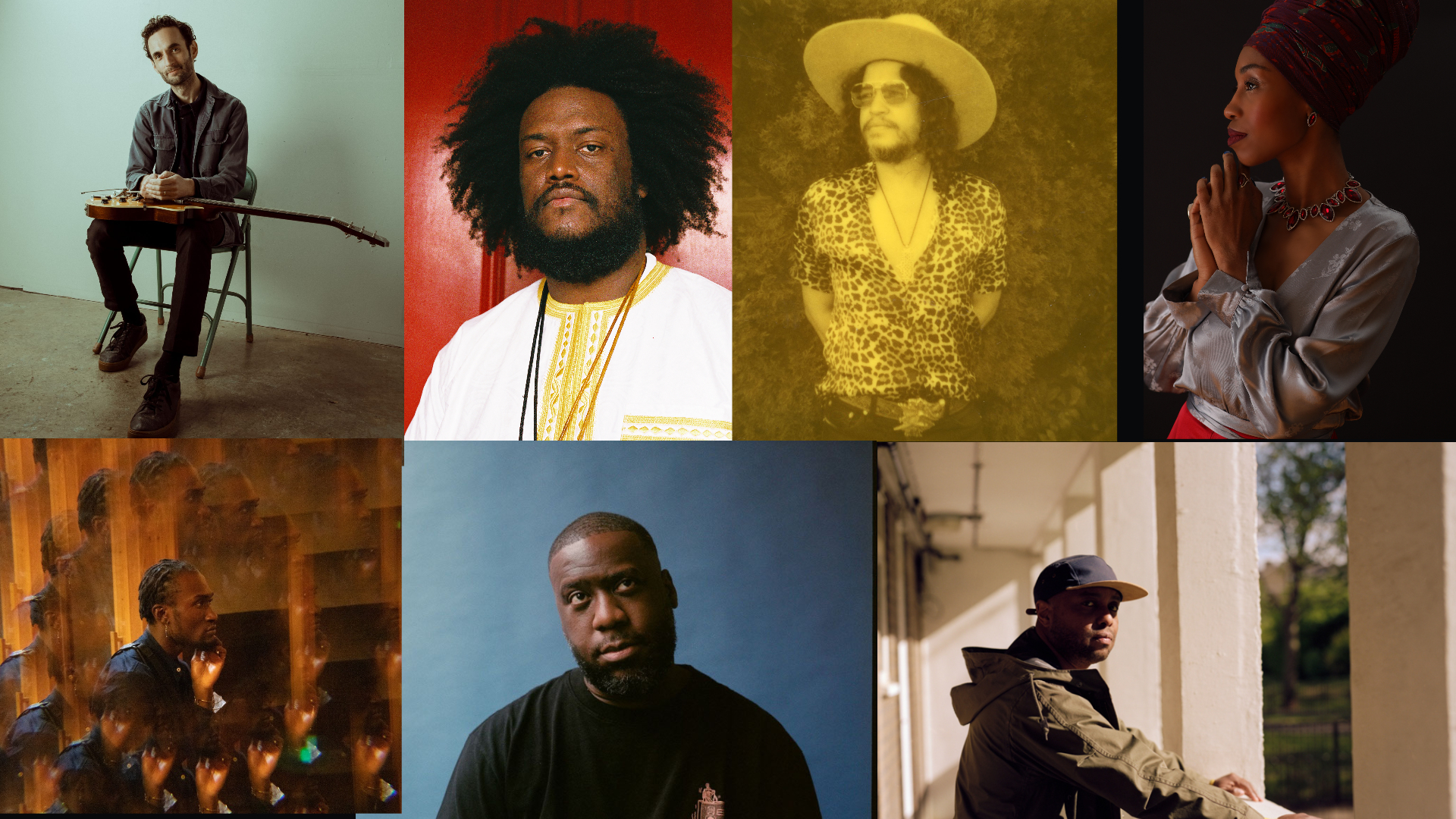 Some of the biggest names currently turning jazz on its ear | Credit: (From left) Isaiah Collier press photo courtesy of the artist, Julian Lage by Alysse Gafkjin, Kamasi Washington press photo courtesy of the artist, Daniel Villarreal by Carolina Sanchez, Jazzmeia Horn courtesy of the artist, Ben Marc press photo courtesy of the artist and Robert Glasper press photo courtesy of the artist
Undoubtedly, Jazz is having a moment. Not since the 1980's, when many classic albums were re-released on CD, have the ears of mainstream audiences turned toward artists working in jazz, an original and storied American art form.
Artists like saxophonists Terrace Martin and Kamasi Washington, multi-instrumentalist Ben Marc and pianist Robert Glasper –– a Grammy award-winner whose jazz-bonafides were well established before he was recognized by the National Academy of Recording Arts & Sciences for his crossover smash Black Radio –– are as close to household names as any jazz artists (save Kenny G) have been in decades, owing largely to an ever-growing list of pop artists seeking their compositional services.
But beyond high-profile collaborations landing them on both commercial and college radio, many of the most prominent contemporary jazz artists are creating works that are turning the genre on its ear, while sparking important conversations about the most important issues of our time –– in that regard, not much has changed in the jazz scene.
With this year's Jacksonville Jazz Festival just around the corner, the JME team has compiled a list of contemporary jazz artists we think you should know.
Tune into the Independent 89.9 HD4, where we'll celebrate Jazz Week May 23-29 with a song by a contemporary jazz artist every hour from 7 a.m. – 9 p.m. and Jazz Brunch from 10 a.m. – noon on Sunday.
Ben Marc
Multi-instrumentalist Ben Marc draws on influences both vast and varied. The Trinity-College-London-educated composer is said to find inspiration in everything from Metallica to Björk. Marc's 2022 solo effort Glass Effect is an experimental masterpiece, a hybrid of electronic, hip-hop, house and classical that finds its motivic footing in everything in between. Glass Effect followed Breathe Suite EP, a sprawling four-track collection written in response to the murder of George Floyd that features layers of strings, a shimmering harp, guest vocalists and a chorus of children's voices. Marc's music can be sonically and thematically challenging, though that hasn't disqualified it from proliferating through playlists and non-commercial radio play; a sign of both expanding musical tastes and Marc's deft skills.–Matthew Shaw
---
Christian Scott aTunde Adjuah
New Orleans-born trumpeter Christian Scott aTunde Adjuah digs deep into the polyglot of his Pan-African and indigenous Native American traditions, cultivating a stellar musical hybrid of jazz and the certain influence of also being a chieftain of the Afro New Orleanian Tribes aka Black Indians. When Adjuah and band work their performances into full boil, a roiling mix of African melodic-rhythms, post-modern composition, and relentless funk permeates the stage. The five-time Grammy nominee is also an ardent activist and vocal in regard to ongoing social and racial injustices: his composition "K.K.P.D. (Ku Klux Police Department)," from his 2010 release is Yesterday You Said Tomorrow, is a haunting threnody and contemplation on racial injustice that is even more poignant and gripping in today's #BLM-era America. –Daniel A. Brown
---
Daniel Villarreal
Before venturing out on his own, Panamá-born, Chicago-based percussionist Daniel Villarreal has enjoyed a chameleonic career. From the psychedelic cumbia of his quintet Dos Santos to the Latin-soul of The Los Sundowns — his collaboration with Grammy-winning guitarist Beto Matinez — to stints with psychedelic-reggae duo Wild Belle, Villarreal is an in-demand player. His debut, Panamá 77 (due out May 20 on International Anthem) is full of lush, multi-textured and jazz-laced instrumentals that bounce from psychedelia to folk-funk in an effortless fusion of Villarreal's wide-ranging influences.–Matthew Shaw
---
Kamasi Washington
Saxophonist Kamasi Washington has covered a lot of jazz-flight miles in his 41 years. The L.A.-born Washington was a one-time prodigy who matured into an impressive, mercurial talent and has found equally minded collaborations with artists as diverse as Horace Tapscott, the Flying Lotus collective, Wayne Shorter, Lauryn Hill, and Snoop Dog. A critical and muso favorite, Washington has racked up a slew of notable awards: most recently, he was nominated for a Grammy for his contribution to the Michelle Obama doc, Becoming. Associations and accolades aside, Washington is celebrated as a composer and player, intent on not letting his certain knowledge of "the tradition," inhibit him from blowing open the jazz gates of the 21st century.–Daniel A. Brown
---
Isaiah Collier
A jazz prodigy who has, in recent years, transcended that label, 23-year-old saxophonist Isaiah Collier, ascended into rarified air with his 2021 full-length Cosmic Transitions, which received an elusive five-star review from eminent jazz publication DownBeat. A multi-instrumentalist, sonic auteur and, already, master of improvisational explorations of the blues, it's clear Collier will not rest on his laurels, as he's he's proven himself unafraid to both pioneer new territory and carve his own path around well-traversed material –– as he did on his extraterrestrial take on "Lift Ev'ry Voice and Sing," James Weldon and John Rosamond Johnson's revered hymn.–Matthew Shaw
Robert Glasper
Pianist Robert Glasper has had the most mainstream success of any jazz artist in this century, with 20 years of hard work paying off during a decade of massive critical and commercial success in which he's become one of the most sought after composers in contemporary music, writing and producing on albums by Anderson.Paak, Denzel Curry, Brittany Howard, Common, Kendrick Lamar and more. The monumental Black Radio III, Glasper's 11th studio album and second for Loma Vista Recordings, features contributions from Q-Tip, D Smoke, Tiffany Gouché and Ty Dollar $ign, as well as from several artists with direct connections to Jacksonville (and the 2022 Jacksonville Jazz Festival), like Esperanza Spalding and PJ Morton, as well as Gregory Porter and Ledis. Glasper's genre-bending style has more crossover appeal than anyone this side of Steph Curry, and his set is sure to be a highlight of Jazz Fest weekend.–Shelton Hull
---
Jazzmeia Horn
Vocalist Jazzmeia Horn is a rising star in the jazz scene that keeps raising the bar on their own trajectory. At age 31, the Dallas-born Horn has moved in an impressive orbit. A one-time student at the School of Jazz and Contemporary Music at The New School, in 2015 Horn won the prestigious Thelonious Monk Institute International Jazz Competition, as well as the 51st NAACP Image Award. Horn is a serious draw on international jazz stages, and was twice nominated for a Grammy. Horn's singular style splits the difference between jazz icons like Betty Carter and Sarah Vaughn, and her sweeping, octave-leaping vocalizations also evoke the unique approach of avant-jazz maverick Annette Peacock. The elegiac 11-minute original composition "Strive (To Be)" from Horn's 2021 release, Dear Love with Her Noble Force, is a certain entry point to tap into the music of a truly fiery 21st-century jazz talent.
---
Julian Lage
At 34, guitarist Julian Lage has already embarked on his third decade as a performer –– he started playing guitar at age 5, and by age 12 he was performing at the Grammy Awards ceremony. Judging by his CV –– graduate of Berklee College of Music and faculty member at the New England Conservatory of Music –– one might imagine Lage's music to lean into the highbrow or dissonantly complex. While he can certainly play that role (one of Lage's on-stage routines is to improvise over the rhythms of famous speeches by James Baldwin), Lage's recorded output, most notably 2021's Squint, which was released on the heralded jazz label Blue Note, is full of electric-guitar fireworks capable of enticing the seated Village Vanguard crowd into something akin to the Surfer Stomp at the Rendezvous Ballroom. Tracks like the traditional-sounding "Boo's Blues" showcase Lage's improvisational prowess and the subtle interplay between his longtime trio, which includes Dave King of The Bad Plus on drums.–Matthew Shaw
Tune into the Independent 89.9 HD4, where we'll celebrate Jazz Week May 23-29 with a song by a contemporary jazz artist every hour from 7 a.m. – 9 p.m. and Jazz Brunch from 10 a.m. – noon on Sunday. Check out our Shape of Jazz Right Now playlist on Spotify.
---