WJCT's 2018 Salute To Veterans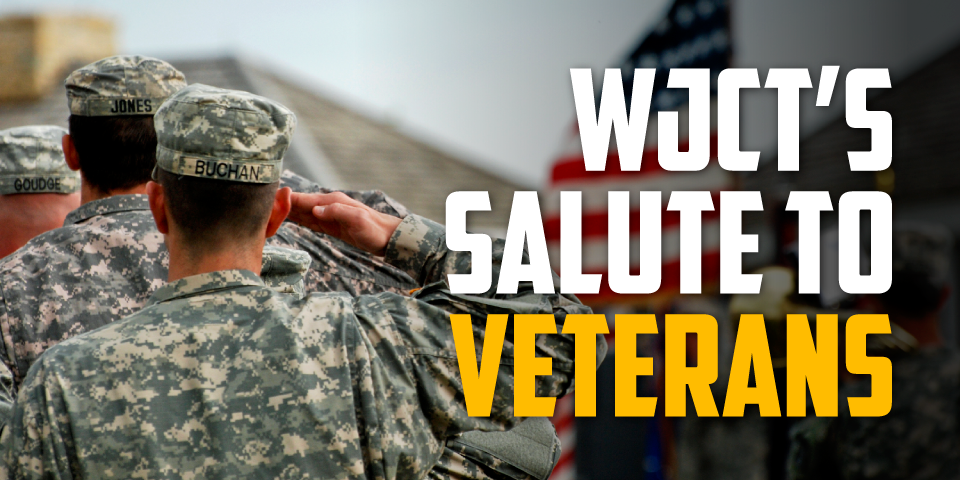 November 11 of each year is a day we ensure veterans know we appreciate the sacrifices they have made to keep our country free. Help WJCT honor our veterans by submitting a name we may add to our on-air thank you announcements.
The submission period has ended. Thank you to all those who submitted veterans' names and to all our veterans who served. Be on the lookout for our on-air thank you announcement both on TV and right here online.
Florida Stories of Service

To watch local Stories of Service and other incredible veteran accounts and documentaries from around the state of Florida simply CLICK HERE.
For more information on the Stories of Service or the Veteran's Coming Home initiatives click the links below.
Veteran's & Military Programming: 2018
Stories of Courage. Stories of Sacrifice. Stories of Service.
WJCT-TV 7.1 Comcast 8, WJCT-TV 7.4 More!, Comcast 212
WJCT and trusted public media partners bring you Stories of Service, a multi-platform initiative that unites powerful stories and conversations around one of our country's most resilient communities: our military veterans. Stories of Service will connect programming and online initiatives tied to military service across public media. WJCT viewers will be able to hear the stories and experiences of veterans as told through PBS' extensive pipeline of documentaries and specials.
The Lincoln Awards: A Concert for Veterans & The Military Family
11/10/18, 7-8pm WJCT 7.4
U.S. Marine Band: An All-Star Orchestra Special #101
11/10/18, 8-9pm WJCT 7.4
U.S. Marine Band: An All-Star Orchestra Special #102
11/10/18, 9-10pm WJCT 7.4
U.S. Marine Band: An All-Star Orchestra Special #103
11/10/18, 10-11pm WJCT 7.4
Lifeline: Pearl Harbor's Unknown Hero (Stories of Service)
11/11/18, 1-2:30pm WJCT 7.1
11/11/18, 10:30-12am WJCT 7.4
In Her Boots (Stories of Service)
11/11/18, 2:30-3pm WJCT 7.1
Ghost Army (Stories of Service)
11/11/18, 3-4pm WJCT 7.1
11/11/18, 8:30-9:30pm WJCT 7.4
D-Day (Stories of Service)
11/11/18, 7:30-8:30pm WJCT 7.4
D-Day: Over Normandy (Stories of Service)
11/11/18, 9:30-10:30pm WJCT 7.4
NOVA Last B-24 (Stories of Service)
11/7/18, 9-10pm WJCT 7.1
11/11/18, 12-1pm WJCT 7.1
11/12/18, 8-9pm WJCT 7.4
Pearl Harbor: Into The Arizona (Stories of Service)
11/12/18, 9-10pm WJCT 7.1
Pearl Harbor USS Oklahoma-The Final Story (Stories of Service)
11/12/18, 10-11pm WJCT 7.1
USS Indianapolis Live – From The Deep (Stories of Services)
11/12/18, 11-12am WJCT 7.1