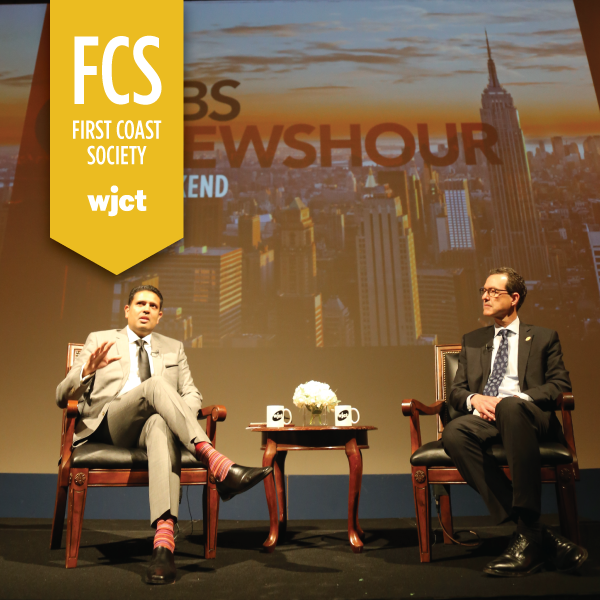 The First Coast Society is comprised of citizens of the First Coast who share WJCT's commitment to excellence and support its continuing efforts to enrich the First Coast community, and who help WJCT take the lead in delivering cultural, educational and public affairs programs directly to First Coast homes and classrooms free of charge.
Membership in the First Coast Society is provided to supporters who make a significant unrestricted contribution monthly or annually. Your investment is a contribution that will pay off for years to come.
$1,200 Friend's Circle
VIP invitations to program premier parties and tapings
Exclusive behind-the-scenes tours of WJCT
Tickets to local events (as available)
Use of WJCT studios and meeting rooms (Restrictions or fees may apply)
Annual choice of one premium gift
One year subscription to Passport
One year subscription to the FCS weekly newsletter
Recognition in the Annual Report
WJCT, Inc. has been recognized for exemption under Section 501 (c) (3) by the Internal Revenue Service. Your charitable contribution, less the fair market value of any goods or services received, is tax deductible as allowed by law.
For more information contact:
Pete Havens at 904-358-6343
Make checks payable to:
WJCT Inc.

Mail to:
WJCT Public Media
Finance Department
100 Festival Park Avenue
Jacksonville, FL 32202
WJCT credit card charges display as follows:
BB *NONPROFIT(PEND SAN DIEGO CAUS BLK*WJCT 904-358-6388 CA
WJCT Inc. Tax Identification (EIN) number:
59-0711482