WJCT Radio Reading Service enriches and empowers the lives of individuals in Northeast Florida and Southeast Georgia who are visually impaired and print challenged. Our closed circuit radio station broadcasts commercial-free readings of local and national newspapers, magazines, books, and much more 24 hours a day, 7 days a week. Founded on May 3, 1993, it remains the only service of its kind on the First Coast.

Listen to the one-hour 2015 Florida Times Union Holiday Short Stories as read by the Radio Reading Service volunteers!
Click Here!
Welcome to the Radio Reading Service for people living with low vision.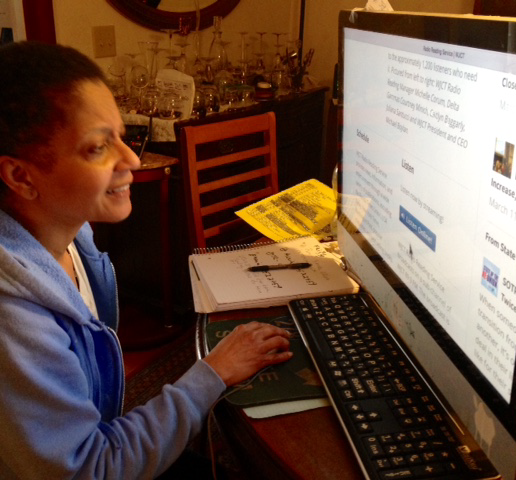 Whether you are listening to the Radio Reading Service (RRS) here online, or are listening via a free special radio receiver we have loaned you, we hope that you are enjoying the range of programs offered 24 hours, 7 days a week.
Because our funding comes from grants and donations, we are sometimes asked to provide information about our listening audience, and demonstrate our commitment to obtaining Listener feedback. To keep our Listener database up-to-date and to improve our programming, please tell us if you're an online listener by filling out the Listener Application/Data Form below:

SPECIAL NOTES TO LISTENERS WHO ALREADY HAVE A RRS RADIO RECEIVER:
You do not need to fill out the Listener Data Form online if you have already completed and sent in a hard copy version previously.
If you want to return your radio receiver, please print and fill out the Radio Receiver Return Form and follow the instructions.
Fill out the NEW Listener Application/Data Form Online
Download the NEW Listener Application/Data Form* (Printer Friendly)
Return your RRS Radio Receiver*
(Printer Friendly)
*These print friendly files require Acrobat Reader. (Free Download Here)
Thank you for being a part of our listening audience. Feel free at any time to give us call at (904) 358-6308 with any questions or feedback you may have throughout the year.
Our 2015 Survey Results
We'd like to thank our Radio Reading Service (RRS) listeners who responded to the 2015 Listener Survey earlier this year! Those who returned it provided us with important feedback. We were especially interested in:
How you access our service
What times you listen
Your favorite programs
What you'd like to hear more of

We can now report some of the overall findings.

Here's what we learned from the 105 Listeners* who returned the survey…

Click Here!

We continue to look for ways to improve. As always, we welcome your comments and suggestions. Contact Michelle Corum at 904-358-6308 or mcorum@wjct.org.

*Respondents were split 50/50 between males and females; not all listeners who responded to the survey provided an answer to every question.

Our Program Schedule

WJCT Radio Reading Service provides news, information, and entertainment through a wide variety of publications, including the Florida Times-Union, USA Today, New York Times, Washington Post, popular magazines, and best selling books. Other highlights include the latest from the Blindness & Disability News Hour, tales of travel, health, exercise, consumer tips, and more! Our locally produced and hosted programs include Sports Gumbo (Sundays at 2am & 2pm) and Williemae's Inspirational Music (Sundays at 10am & 4pm). Over 50 local volunteers, as well as program providers and volunteer readers throughout the country, help WJCT Radio Reading Service achieve excellence in programming.

Williemae's Inspirational Music

Williemae's Inspirational Music is an hour of beautiful music compiled by WJCT receptionist, Williemae Young. Williemae puts together a program that touches, inspires and heals the soul through music. Each show relates to different components of relationships and life's challenges. Sundays at 10am and 4pm.

Check out two new programs on our schedule:

"A Way With Words" (Poetry) at 2 am Tuesdays and Fridays
Military Times – 2am Thursdays

Be A Volunteer!

Volunteers provide the heart and voice of the WJCT Radio Reading Service. Local volunteers broadcast live readings of the Florida Times-Union and other printed material seven days a week. Each volunteer reads up to two hours per week with one or two partners. Our volunteers represent all walks of life. They are teachers, librarians, financial executives, former broadcasters, entrepreneurs, homemakers, photographers, actors, attorneys, students, and retired professionals. Listed below are qualifications that enable them, and hopefully YOU, to maintain the high quality of service our listeners deserve.

pleasant reading voice
excellent pronunciation and projection
smooth reading ability
nice inflection
compassion and sensitivity
interest in community and current events
commitment, dependability, and availability

If you are unable to be a reader, we greatly appreciate volunteers who lend their time and expertise in other roles. Join our team of dedicated volunteers who make a difference every day in an incredibly unique, rewarding, and fun way!



Howard Rosenman (above) is just one of the many volunteers who read the Florida Times Union newspaper on-air every day in the WJCT Radio Reading studios.

Radio Reading Service Needs Your Help

Russ Kirk (Left), chats with his WJCT friends at a party for him on his last day as a volunteer for the Radio Reading Service.

Russ began as a Monday morning volunteer when the service for the blind and print-impaired started in May 1993; a dedicated RRS reader for the past 22 years! We'll all miss you, Russ!


Grants & Donations

On August 25, WJCT spoke to the members of the Uptown Civitan Club in Jacksonville, FL. Just days later, the Civitan Club's Philanthropic Committee awarded WJCT's Radio Reading Service $1,500 to help provide special radio programming for people with visual or physical challenges.

(Left) Pictured left to right: Stan Cleiland, Michael Boylan, Mattie Fraser and Michelle Corum





In 2015, Delta Gamma sorority at UNF donated $6,000.00 to WJCT's Radio Reading Service for the blind and visually impaired. The funds will help pay for the special sub-channel radios that listeners need in order to hear the service. In addition to this contribution, Delta Gamma sorority members, as part of their philanthropy, help read the Sunday newspaper (the Florida Times-Union) to the approximately 900 listeners who need it.

(Left Top) Pictured left to right: WJCT Radio Reading Manager Michelle Corum, Delta Gammas Courtney Minich, Caitlyn Baggarly, Juliana Santucci and WJCT President and CEO Michael Boylan

(Left Bottom) UNF Delta Gammas Delaney Fort and Alexandra Winsor

Support

WJCT Radio Reading Service is a non-profit service depending solely on donations to operate. Contributions are vital to the continued success and growth of this service. A donation is appreciated, but inability to contribute will not affect your eligibility to access the RRS. If you enjoy our service, please encourage friends and family to offer financial support. This tax-deductible gift will provide news, information, entertainment, and cultural opportunities to community members who are visually impaired and print-challenged. You will connect and engage listeners as you give the gift of independence.

Make tax-deductible donations to:

WJCT Radio Reading Service
100 Festival Park Avenue
Jacksonville, FL 32202

Contact

Michelle Corum
WJCT Radio Reading Service
100 Festival Park Avenue
Jacksonville, FL 32202
(904) 358-6308
mcorum@wjct.org